Examples, updates, news, and more.
Post by Don on June 11 2015
EditThis.net is now fully Mobile-Friendly! Every feature is optimized for mobile use, tablets, desktop, etc.
If you experience any difficulties, please send an email via the contact page. Thank you!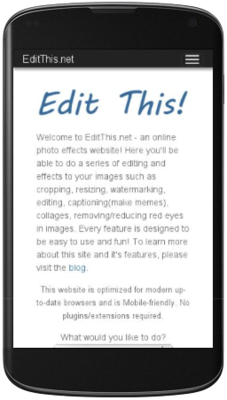 For more go to the blog.
Images created by
EditThis!
To see more scroll left/right. For more go to the blog.
About
This blog contains posts related to the features this site has to offer! Please check often for updates!.
You can search the blog for posts, i.e.: Photo of The Day