Examples, updates, news, and more.
Post by Don on August 7 2017
My nephew and niece as of late have grown a liking for the ship Titanic. They like the movie but know that ship actually existed and what happened to it. My niece loves to sing 'My heart will go on' as well! 😊
Yesterday while doodling around with draw, my nephew asked me to draw Titanic which I did and then he said he wanted to draw the ship how it looked when it was sinking. Below is the result. They were two seperate drawings(images) collaged together into a single image. He even signed his drawing(image): Gjovani 😊👍🏼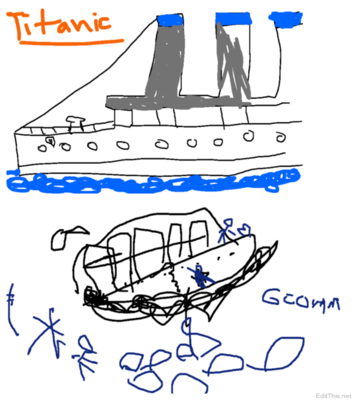 For more go to the blog.
Images created by
EditThis!
To see more scroll left/right. For more go to the blog.
About
This blog contains posts related to the features this site has to offer! Please check often for updates!.
You can search the blog for posts, i.e.: Photo of The Day