Examples, updates, news, and more.
Post by Don on August 11 2017
Really people. Just because you can go 'Live' on Facebook doesn't mean you should or should go Live all the time. No one cares to see you drive with loud music or show off your location because you're in some far away cool land. Whoopidy doo! Ok ok, I'm kidding! Well kind of. 😜
It could get quite annoying though. Do something else or something for a change. Make some important annoucement. Show off some skill or talent. Promote your work or someone elses' work/business. Something constructive for a change! This is really what the 'Live' feature is suppose to be about. It's not about driving with loud music endangering yourself and others.
If I wanted to watch mindless material, I would watch TV or something instead. 😆
Effects applied: Traditional meme.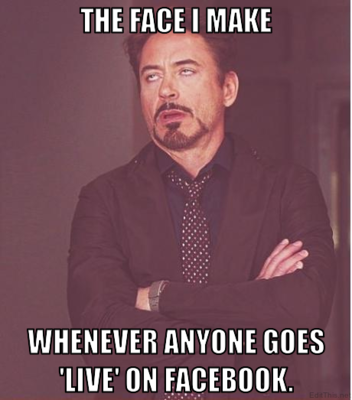 For more go to the blog.
Images created by
EditThis!
To see more scroll left/right. For more go to the blog.
About
This blog contains posts related to the features this site has to offer! Please check often for updates!.
You can search the blog for posts, i.e.: Photo of The Day