Examples, updates, news, and more.
Post by Don on July 17 2018
It's official ladies and gentlemen! 😜
There are so many more revelant things to donate to but with a strong following of fans as hers and of the Kardashian's, why am I not too surprised with this? 😆
It's official. We are the dumbest civilization ever. pic.twitter.com/h5W0wjGRcI

— Isaac (@WorldofIsaac) July 13, 2018
http://www.businessinsider.com/kylie-jenner-gofundme-fans-crowdfunding-billionaire-2018-7
Effects applied: Made using Caption.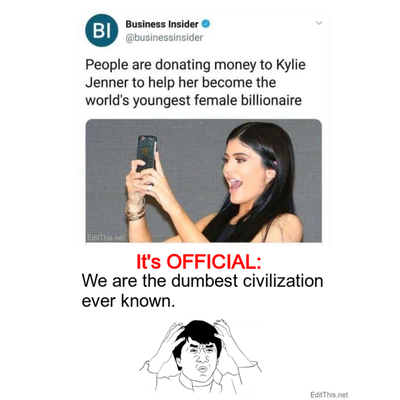 For more go to the blog.
Images created by
EditThis!
To see more scroll left/right. For more go to the blog.
About
This blog contains posts related to the features this site has to offer! Please check often for updates!.
You can search the blog for posts, i.e.: Photo of The Day