Examples, updates, news, and more.
Post by Don on August 15 2018
I've decided to repost this Meme because from time to time I get asked if I still workout, exercise, etc. I still do and I do not intend on stopping. For me it's become a way of life so to speak. Actually, in my opinion the more you climb up in age, the more you should exercise and take care of yourself. There is a belief I've noticed that once you hit a certain age, say like 30, all that stuff should be done with, not because of other things going on with their lives, but simply because you're getting "older."

As mentioned, if there is ever a time you should start exercising, it is when you are getting 'older'. Don't accept the 'death clock' society or the 'system' has programmed us with to believe/accept about ourselves when we reach certain ages. I have a relative who is in his mid 70's and lives on a huge property. He maintains his property himself still and even goes to the gym. Another relative although retired, started working part time again(just because, doesn't need the money) and walks 2 or so miles(could be more) every morning when the time permits and on sunny days likes to sun bathe! They both look great for their ages!

Self image begins in the mind. You can retire but don't retire from Life.👍🏼💪🏼
Effects applied: Made using Caption.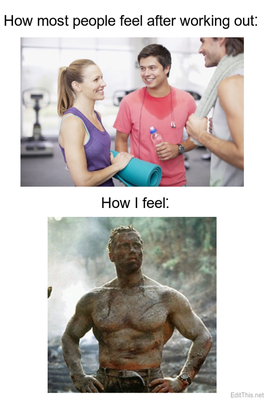 For more go to the blog.
Images created by
EditThis!
To see more scroll left/right. For more go to the blog.
About
This blog contains posts related to the features this site has to offer! Please check often for updates!.
You can search the blog for posts, i.e.: Photo of The Day