Examples, updates, news, and more.
Post by Don on October 5 2013
The image in this post was created using the cropping, captioning and collage features. I first took each image and cropped them. Then captioned each image followed by uploading both images to the collage page setting them side by side resulting in the image below.
As you can see, Riley(my friends' German Shepherd) really likes Uncle Jesse! "You got it dude!"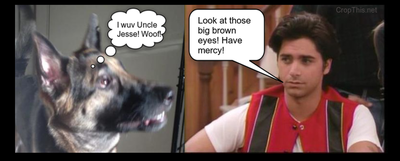 For more go to the blog.
Images created by
EditThis!
To see more scroll left/right. For more go to the blog.
About
This blog contains posts related to the features this site has to offer! Please check often for updates!.
You can search the blog for posts, i.e.: Photo of The Day