Examples, updates, news, and more.
Post by Don on June 25 2017
This photo was taken at the track where I run. The sun was very beautiful in the soon-to-be early evening sky that day. The 'light' of the sun for Earth is so vitally important for us that we take it for granted not realizing the importance of the sun for us. Later that night I remembered a quote from the movie Interstellar that came to mind while looking at the photo and was inspired to create the image below. If the sun were to die, what would happen to earth? (And yes I know the sun had nothing to do with the problem in Interstellar.)
The poem 'Do not go gentle into that good night' by Dylan Thomas mentioned in the movie refers to, 'Do not submit and fight against the doom we are soon to experience' in the movie. The poem in it self though means life affirming, urging us to live life to the fullest and to never surrender, to rage against anything that is forcing you back in life or is impeding your life in any way.
The way I like to look at it: The 'light', your consciousness, the flame that is you... If anything threatens this flame(light) to be extinquished, do not submit and fight against the dying of your light.
Consciousness is truly all that we know. Perhaps consciousness is ALL that we have? Just a thought.
So rage on. 😊
Interstellar confusing? See this great explanation! 😊
Effects applied: Caption, profile overlay Gargantua image, Bukur filter effect.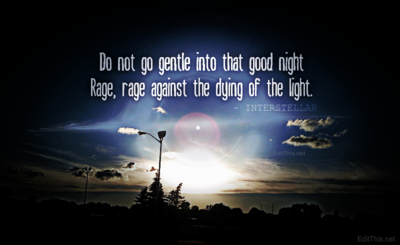 For more go to the blog.
Images created by
EditThis!
To see more scroll left/right. For more go to the blog.
About
This blog contains posts related to the features this site has to offer! Please check often for updates!.
You can search the blog for posts, i.e.: Photo of The Day