Examples, updates, news, and more.
Post by Don on July 12 2018
The quote below by Zen Shin is I think a great way to look at life. It reminds me of what the actor Matthew McConaughey said about "chasing your own hero."
The way to chase your own hero, is not to compete with others, but to compete with yourself, to make yourself better than yesterday. Took me a long time to realize this but no matter how it appears, this journey of life is ultimately with ourselves.
So, just keep bloomin'! Be your own hero. 😊👍🏼
Effects applied: Made using Caption.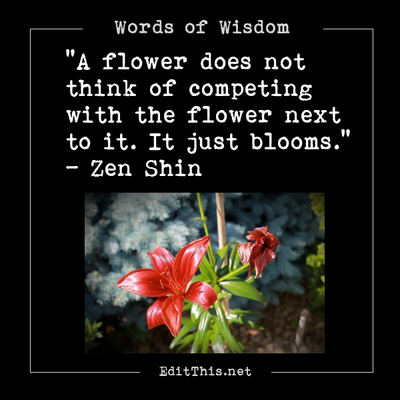 For more go to the blog.
Images created by
EditThis!
To see more scroll left/right. For more go to the blog.
About
This blog contains posts related to the features this site has to offer! Please check often for updates!.
You can search the blog for posts, i.e.: Photo of The Day