Examples, updates, news, and more.
Post by Don on October 1 2018
It's October and it's officially "Halloween Time." Since cats are associated with Halloween, I thought I would start off with a Cat meme. But did you know that the 'house cat' may not be what you think it is?
(Notice: I am not an expert in the following or a conspiracy theorist. I am just "parroting" what I have gathered/learned/observed over the years of my interest into the unknown, paranormal, etc)
Some believe that the house cat we know of, was created by yes... aliens along time ago. 😱 I know, sounds crazy and far fetched but I'll go into why some believe that theory.
Well before our time going back to the ancient Egyptian times, there was no real evidence that cats existed before that, but it was in that time they appeared and when the ancient Egyptians worshipped them. They worshipped them as gifts from the gods. If you notice, cats are a big symbol in Egypt.
If they are gifts, what does that mean and who or what are the gods? Some believe they were genetically created by an advanced specie of aliens known as the Reptillians. Back then, people believed those that came from the sky, were gods, hence aliens being seen as gods back then. Cats were given as a gift supposedly but that's what the Reptillians made it appear to be but it was more about spying. But spying sounds so modern and you immediately think hidden cameras were involved etc. Not exactly. The cats themselves were supposedly the cameras.
Sounds far fetched right? It's called remote viewing. They were able to literally see what the cat was seeing. If you remember in Stranger Things when Eleven was doing remote viewing, something like that. Anyway, but why did they want to spy? Theory is the Reptillians are conquerors. They like to conqueror planets, etc. They supposedly had something to do with our planet's civilizations. Because of their appearance, they do everything in secret, behind the scenes. So because of that, they spy and are able to shape shift to hide their appearance as well.
Another theory is, they also created the Grey aliens. They are like their soldiers/servants so to speak. Less frightening in appearance.
Back to the cats, if you honestly observe cats today, you can see they have "spying characteristics". They're always observing, have great focus, quiet, sneaky, hidden in plain sight sometimes, seem to be in their own little worlds and no care for yours really other than you give them food. But here's the real spooky alien feature about them... their eyes. If you look at some cats eyes, they have reptillian-like eyes; the kind with slits in them. Supposedly it's because they were created by the Reptillians using Reptillian genetics/DNA. It's also why some alien Grey's have been reported to have slits in their eyes too.
You remember the movie Alien? In that movie, there is a cat. The Alien in the movie is a Reptillian specie alien. The Alien in the movie kills everyone except the cat really. I wonder why? Also, why was a cat with slit eyes used for the movie and why not another pet? Did the film makers know something? Just a thought.
Also, could all of the modern superstitions of cats, like 9 lives, a black cat a symbol of witchcraft and the occult, a bad omen, spit three times if you see a black cat and/or don't cross it's path... all have to do with the above? Maybe.
And that's why ladies and gentlemen I am a dog person! 😊👍🏼
Effects applied: Caption style meme.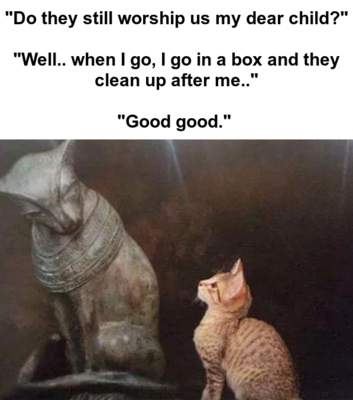 For more go to the blog.
Images created by
EditThis!
To see more scroll left/right. For more go to the blog.
About
This blog contains posts related to the features this site has to offer! Please check often for updates!.
You can search the blog for posts, i.e.: Photo of The Day