Examples, updates, news, and more.
Post by Don on October 19 2018
Today the new Halloween movie is released in the United States. Because of that, I've put togther the image below! The eye part in the image is an actual image of a Michael Myers mask I've had. I then profile overlayed an image of Michael Myers I got from the internet along with captioning 'Happy Halloween' image and then applying Vignette filter effect.
Those, well some, who know me personally know I'm a fan of the Halloween movies. As a kid, Michael Myers terrified me the most. Parents and older kids would mention "The Boogeyman" and you wondered who or what that is and it was Michael Myers that gave him a face.
What makes 'Michael Myers' scary? Everyone has their perspective on that but for me he's the embodiment of what we fear the most; the unknown, pure evil. He is the personification of pure evil. He is the darkest of what humanity can be. He is all of us and none of us. He is everywhere and nowhere.
I've noticed over the years some people don't like or celebrate Halloween. That's fine. But if you look at the history of Halloween, it's origins are somewhat positive although having some negative. Halloween was intended to "scare" away the darkness and evil because between Halloween and Nov first, supposedly it's when the veil between the worlds of the living and dead are at it's thinest. They believed by dressing up as something scary themselves, it would confuse/scare the scary beings that can come through and go back to where they came from and thus prevent 'bad luck' over the winter months.(or something like that lol.) Regardless, darkness is apart of life. You can either let it consume you or teach you.
And it's because of that I dress up as Michael Myers for Halloween! 😈 To remind the people of the dark so that they can turn to the Light. Hahaha I'm kidding! 😜
After all.. what is darkness? It's the absense of light; figuratively and literally speaking. ☀️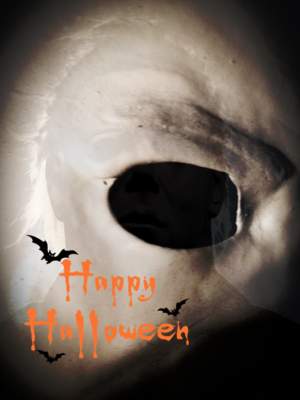 For more go to the blog.
Images created by
EditThis!
To see more scroll left/right. For more go to the blog.
About
This blog contains posts related to the features this site has to offer! Please check often for updates!.
You can search the blog for posts, i.e.: Photo of The Day