Examples, updates, news, and more.
Post by Don on October 6 2013
Lomography seems to be really popular these days. In the image below, you'll see an example of what a lomography image is. The image on the left is the orginal image and the image on the right is an image where lomography was applied to it.(I used the collage feature to show a side by side comparison.)
In the edit page, there is a lomography edit/section that allows you to do this with your images. The very cool thing about it is, you can adjust the controls for how you want your image to be 'lomographed'. All edits/sections in the edit page have controls for each edit and you can control/adjust each edit to your liking. You have full control for each edit along with undoing and redoing your edits. You can start over completely to your original image as well just by clicking on the start over button.
I've done my best to make it as if you were using an actual image editing program on your computer like Adobe Photoshop, but instead on the internet!

Photo Credit: Sarah Skakum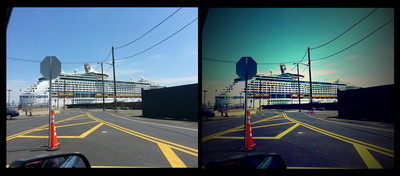 For more go to the blog.
Images created by
EditThis!
To see more scroll left/right. For more go to the blog.
About
This blog contains posts related to the features this site has to offer! Please check often for updates!.
You can search the blog for posts, i.e.: Photo of The Day