Examples, updates, news, and more.
Post by Don on October 7 2013
This year for Labor Day weekend, our family decided to take a small vacation to Traverse City, Michigan. It's located in the northern left part of Michigan. I never been "up north" that far before in our state and was excited to see what our state looks like beyond Mount Pleasant(Furthest north I ever been in our state).
I heard a lot of good things about Traverse City. I was really excited to get there and the ride there was really nice too. The further north you go, the more country it is, the more real everything feels because of all the nature around you and it's heavenly glory. lol
Traverse City did turn out to be really nice. The water there is amazing(see image below). I'm not one to go into lake water much and for me to go into lake water means the water is actually worthy by my standards. lol

There are many other places you can go to in/around Traverse City as well. We checked out the old state hospital there that was abandoned and then turned into a shopping center inside with shops, restaurants, etc. There are also apartments/condos on the higher levels which are pretty cool. For more info, see this link and this one.
All in all we had a great time and I would love to go again! I would actually live there.
Lomography was applied to the image on the left in the below image. Lomography seems to go good with nature/landscape images in my opinion, but you can apply lomography to any image of course.
One more thing about Traverse City if you ever decide to go, don't listen to anyone that says anything is foo far from where you are and don't go looking for any place called Torch beach!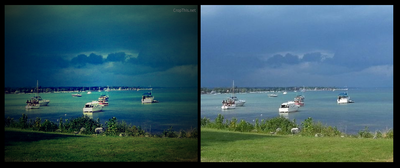 For more go to the blog.
Images created by
EditThis!
To see more scroll left/right. For more go to the blog.
About
This blog contains posts related to the features this site has to offer! Please check often for updates!.
You can search the blog for posts, i.e.: Photo of The Day