Examples, updates, news, and more.
Post by Don on March 31 2017
I've become somewhat obsessed with Inception as of late. 😊 This movie is very meaningful. It may be difficult to understand at first, but upon more viewings you get better understanding. If you still don't understand, see this wonderful explanation of it: Inception Explained
Effects applied: I took an image of a deserted train platform, applied vignette, then overlayed with an image of the two actors laying on the tracks from the movie. From there captioned the text.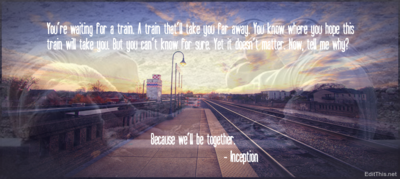 For more go to the blog.
Images created by
EditThis!
To see more scroll left/right. For more go to the blog.
About
This blog contains posts related to the features this site has to offer! Please check often for updates!.
You can search the blog for posts, i.e.: Photo of The Day