Examples, updates, news, and more.
Post by Don on February 8 2017
Update notice: The ability to create an image canvas WITHOUT text with the Text Only Meme maker is now available. You don't need to supply text anymore to create the background canvas for the Text Only meme. Just check the checkbox that says "Make canvas ONLY", select the width and height if necessary, background color. Make sure to uncheck if you want to add text to your Text Only meme. With a blank image canvas, you can do whatever you want with it like captioning text and/or images/emojis, etc etc like in the many examples on this blog. 👍🏼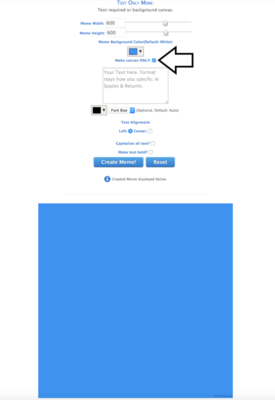 For more go to the blog.
Images created by
EditThis!
To see more scroll left/right. For more go to the blog.
About
This blog contains posts related to the features this site has to offer! Please check often for updates!.
You can search the blog for posts, i.e.: Photo of The Day