Examples, updates, news, and more.
Post by Don on October 6 2013
Some time ago I came across the image in the left in collage below and when I read it, it stuck with me for some reason. I really liked it. I decided to take a phone picture just to have.
Although I agree with most of what's written, there was one thing I didn't agree and it's noted in the image on the right in the collage below. Before you are anything else and what makes anything possible for you in this realm of existence we call "reality," is the fact that you're a human-being first.
Don't lose yourself in false ideologies, in extreme pride, and especially losing yourself in someone else by trying to be just like them. It is said conformity is the killer of creativity. It is in my opinion.
The collage below was first created by taking each image and resizing each to a certain size for the collage. Then each were edited. The image on the left was edited using the vintage edit and the image on the right was edited using the 'Nashville Effect'. I then uploaded both to the collage page and set them side by side followed by uploading to the caption page and captioned the text you see below the images. Finally uploaded to the watermark page and watermarked the image.
Embrace your true self.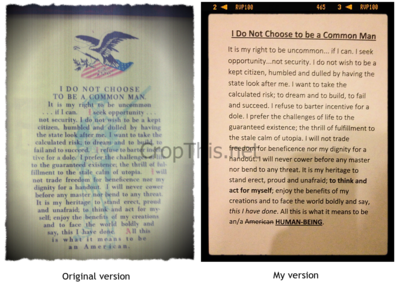 For more go to the blog.
Images created by
EditThis!
To see more scroll left/right. For more go to the blog.
About
This blog contains posts related to the features this site has to offer! Please check often for updates!.
You can search the blog for posts, i.e.: Photo of The Day