Examples, updates, news, and more.
Post by Don on October 19 2013
My friend attended the reenactment of The Battle of Bound Brook earlier this year in her home town of Bound Brook New Jersey. She took some really good pictures which I thought I would take the opportunity to utilize the vintage filter/effect that's on the edit page by trying to create the effect of the image being from that time era.
Below is the original image, the edited image and the edited image with black and white applied to it. The vintage section gives you complete control in applying the effects to an image. You adjust to your liking. You also can apply other filters/edits to the image as well like black and white if you feel it gives it more of vintage look.
Photo credit: Sarah Skakum
Post by Don on October 12 2013
Since it's Halloween time, I thought I would post some images of Traverse City State Hospital we took when we were there.

They're restored the building and inside you'll find many shops, restaurants and even restored part of the place into condo's! However, there is a huge part of it that's still abandoned! It's actually a beautiful historical place and worth seeing when in Traverse City!
Post by Don on October 7 2013
This year for Labor Day weekend, our family decided to take a small vacation to Traverse City, Michigan. It's located in the northern left part of Michigan. I never been "up north" that far before in our state and was excited to see what our state looks like beyond Mount Pleasant(Furthest north I ever been in our state).
I heard a lot of good things about Traverse City. I was really exci... read more.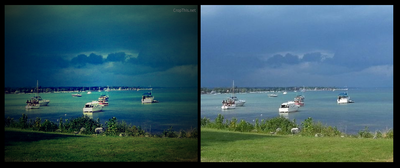 Post by Don on October 6 2013
Lomography seems to be really popular these days. In the image below, you'll see an example of what a lomography image is. The image on the left is the orginal image and the image on the right is an image where lomography was applied to it.(I used the collage feature to show a side by side comparison.)
In the edit page, there is a lomography edit/section that allows you to do this with your images. The very cool thing about it is, you can adjust the controls for how you want your image to be 'lomographed'. All edits/sections in the edit page have controls for each edit and you can control/adjust each edit to your liking. You have full control for each edit along with undoing and redoing your edits. You can start over completely to your original image as well just by clicking on the start over button.
I've done my best to make it as if you were using an actual image editing program on your computer like Adobe Photoshop, but instead on the internet!

Photo Credit: Sarah Skakum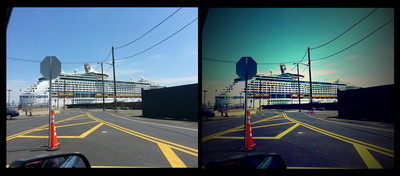 Post by Don on October 6 2013
Some time ago I came across the image in the left in collage below and when I read it, it stuck with me for some reason. I really liked it. I decided to take a phone picture just to have.
Although I agree with most of what's written, there was one thing I didn't agree and it's noted in the image on the right in the collage below. Before you are anything else and what makes anything possible for you in this realm of existence we call "reality," is the fact that you're a human-being first.
Don't lose yourself in false ideologies, in extreme pride, and especially losing yourself in someone else by trying to be just like them. It is said conformity is the killer of creativity. It is in my opinion.
The collage below was first created by taking each image and resizing each to a certain size for the collage. Then each were edited. The image on the left was edited using the vintage edit and the image on the right was edited using the 'Nashville Effect'. I then uploaded both to the collage page and set them side by side followed by uploading to the caption page and captioned the text you see below the images. Finally uploaded to the watermark page and watermarked the image.
Embrace your true self.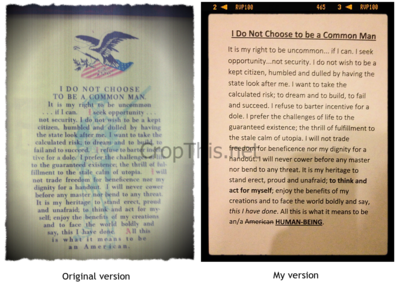 To see more scroll left/right..